For several decades, I led weekly psycho-spiritual process therapy groups. "Therapy" comes from the Greek word therapon meaning "companion on a common struggle or journey." Being a therapist sometimes meant going back into hell with a client. Like deep sea diving using the buddy system, journeys into dark memories of profound wounding and pain are best done with someone else. Limiting decisions and beliefs are surfaced for healing and release. 
Unlike therapy, coaching journeys into the future. It's more like learning to skydive. Coaching is like flying into your preferred future, and learning how to defy the gravity of your past and present circumstances. Having a coach can be like having a highly skilled skydiving instructor who assists you with tandem, accelerated free-fall or static-line jumps until you are able to jump solo. When you learn to trust yourself, understand fully how to play the skydiving game and respect the rules of air adventure, you delight in life-changing empowerment.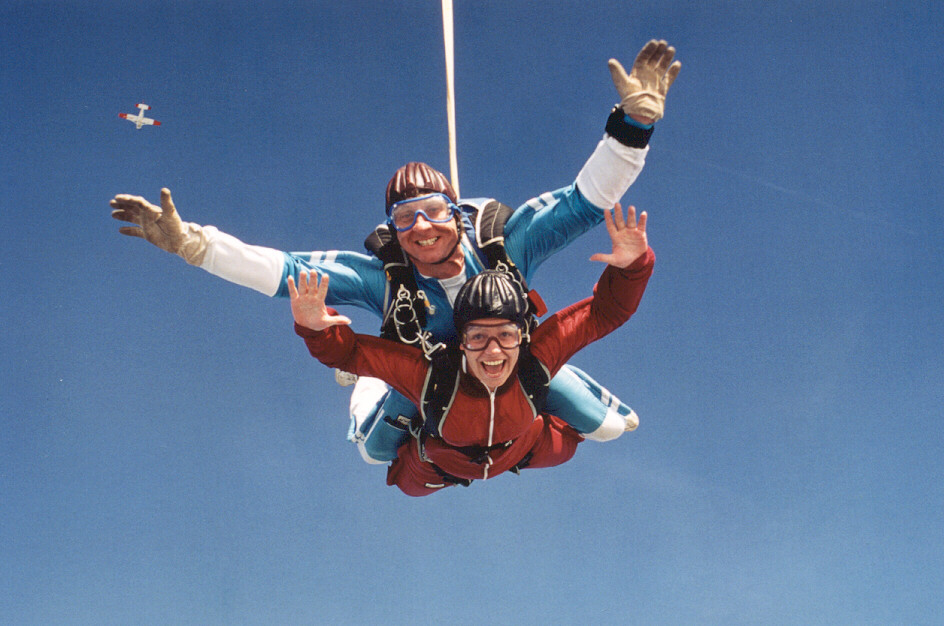 Creating your future as filled with possibility and promise changes your present. Then, as many come to realize: The future ain't what it used to be.
 I grew up in TN with country music in the air around my relatives. While Ronnie Milsap's lyrics communicate a starting place for deciding to receive coaching, more recently that line, "The future isn't what it used to be," has been dusted off from Yogi Berra's pitch of it with a more transformative approach by theoretical physicists like Fred Alan Wolfe.

Coaching transforms the present and future. Coaching focuses on getting real about current reality, "what is" and "what is not." It is a powerful release of limiting paradigms. The intention of coaching is to bring to conscious awareness what your "story" is . . . and to write a new one if the old story is not serving you well. Coaching is creating a new life story that transforms your old "story."
Often people enter coaching with "goals," what they want to accomplish and achieve. Coaching at it's best aligns you with the deepest intentions of your heart and soul. Why are you here? What are you here for?
We want things, we want achievements, we have goals. So we can be happy, yes? So we can feel good about ourselves and love our lives, right?
What if we focused on what makes our hearts sing? What is our happiness? Not what society tells us. Not what our family taught us. What are our deepest needs and desires?
We don't have to achieve all our goals to be happy. We can be happy now. And what will that take? What bold claim on our own lives, on our own priorities, on our own being – by our selves?
I heard Raw Solla speak at the Longevity Now Conference 2014 in Los Angeles. She was a 56-year-old exuberant grandmother and gifted raw chef with three restaurants in Iceland. Before her presentation in which she sparkled vibrant joy and vitality, including doing a headstand spontaneously on the table where she was preparing raw dishes for the audience, she told us she had listened for an hour and a half to Pharrell Williams' song "Happy." She had an intention: happiness. Out of that came her actions and behaviors. Her goal was to elevate and sustain a high level of energy to share with us during her presentation.
)
Coaching, for me, is about being unconditionally happy. It can be a path to experiencing, beyond whatever circumstances are present, an underlying peace, "radiant health beyond danger," joy, unconditional love, relatedness and compassionate community.
If you think we might be a match, click on the email link at the upper right on the top of this page. Schedule a free 30 minute consultation with me and let me know what's going on for you. Let's get started!